On October 4th2018, the 4th Sounding Board meeting took place in parallel with the International Symposium on Heavy Vehicle Transport Technology HVTT15, in Rotterdam. The meeting was a success and a large number of members were able to enjoy the full day of conferences related to long-haul transport.
Figure 1 Sounding Board meeting at HVTT15
The event started with a brief explanation of the project's first-year evolution followed by a presentation of the highlights of each Work Package. All Work Package leaders had the opportunity to explain to the Sounding Board members all the improvements made during this period and also helped Sounding Board members to have a better understanding of the evolution of the AEROFLEX project. Assistants were invited to address their doubts or questions directly to the project partners after each Work Package presentation.
Great importance was given to the roadmap defined by WP7 in order to create the final Book of Recommendations to be delivered at the end of the project.  This roadmap includes the need to have three Workshops during 2019 based on the necessities identified up to now by the project partners. Even though the exact dates and places are still pending confirmation, locations such as Paris, Barcelona and Brussels are being considered (see Figure 2 below).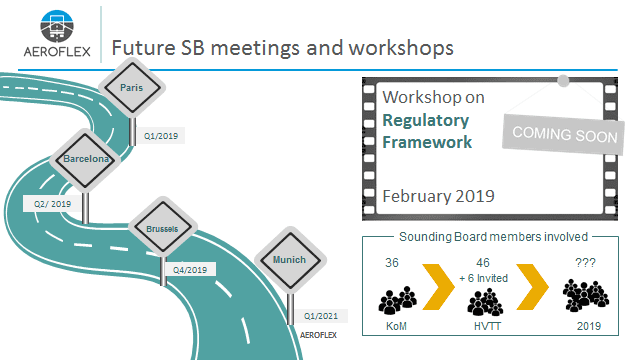 Figure 2 Workshops schedule
In order to create this Book of Recommendations (BoR), it is necessary to identify the existing gaps in the current regulatory framework as well as controversial issues that will play an important role in the deployment of AEROFLEX's new concepts.  For this reason, the objective of the first workshop to be held in the first quarter of 2019 is to focus on the regulatory framework related to AEROFLEX's concepts and solutions.
Finally, all the necessary pillars to build the BoR were shown (see Figure 3) and for each pillar, key stakeholders were identified in order to address and discuss the topics.  Future workshop topics will be based on the different pillars and necessities identified in the Project.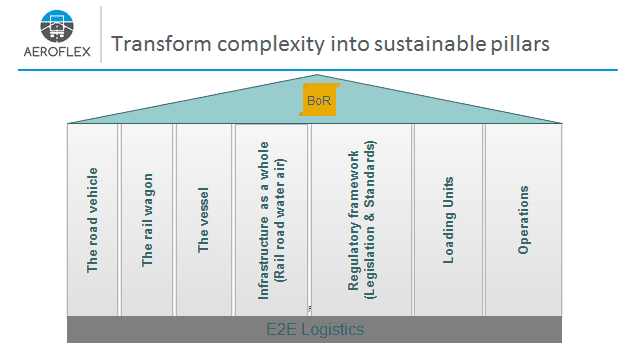 Figure 3 Structure of the Book of Recommendations (BoR)
The main aim of the workshops is to combine the expertise of the Sounding Board members together with AEROFLEX's project partners to identify those elements that have a direct impact on AEROFLEX trucks.
To ensure the quality and success of the workshops as a whole, all the activities will be interlinked and aligned to AEROFLEX's mission.