Last week, January 25-29, the AEROFLEX project team achieved a new milestone.
The commission of the AEMPT Demonstrator has nearly ended and the first successful tests have been performed at the ZF testtrack, Jeversen Germany.
Cold weather and snow gave extra excitement during the test, giving even more confidence in the working of the AEMPT system.
AEMPT stands for Advance Energy Management Powertrain. A key idea to combine the powertrain of the pulling vehicle with electric drives in different vehicle units, thereby creating a distributed hybrid drive. In turn AEROFLEX vehicles allow a flexible combination of vehicle units which bring their own driveline into the combination. A sophisticated energy and torque management system will allow an efficient operation of this distributed powertrain. This type of powertrain architecture including at least one electric drive in a trailer unit, the sophisticated energy and torque management and a suitable communication interface is referred to as Advanced Energy Management Powertrain (AEMPT).
It took nearly three years to develop and build the eDolly, the AEMPT technology, the adaptations to the eTrailer from SCB, the communication, and the final commissioning of the complete truck.
Hard work has been done by the team, MAN Truck & Bus SE Munich, Fraunhofer IVI Dresden and ZF/Wabco based in Germany, VET Beesd and TNO Helmond based in the Netherlands.
The truck, the eDolly and the eTrailer are now ready to undertake the test program.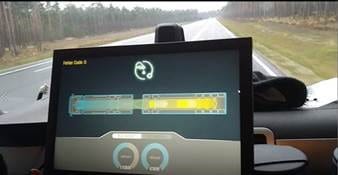 We believe this is again a step ahead in making trucks more efficient, safe, easy to handle at terminals and hubs, and in minimizing the environmental impact.
---